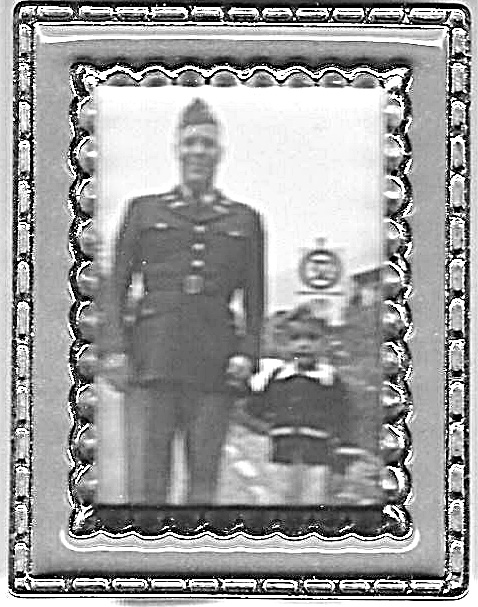 I am sometimes asked where I was born.
It used to be a long drawn out explanation. No more. I tell all I was born in the Army. That's true enough. I never lived in the exact place I was born. We were moving from one place to another when I came into being. I thought it would save a lot of explaining. Meah. My sister was the same. We were in Ft. Devens Mass. When she was born. We moved to Fort Ord in California right afterwards. So, we were born in the Army.
My father spent his career in military intelligence. I can tell you contrary to the belief of some, that is not an oxymoron. There is a distinctive difference between intelligent and intelligence. In the very early part of my childhood, we lived in Germany. First Regensburg, then Nuremburg. My parents were part of a social community which included other intelligence people from different nations. One of my father's acquaintances was Lou Conein. He would later gain infamy during the Viet Nam war and with the assassination of President Diem.
In the early 1950s Germany was still war-torn.
I remember some things well even to this day. Most of Nuremburg was a flattened mess. About the only thing working was the Strasse Bond, the street cars. Most everything else was a bombed-out hulk. There were a few structures left unharmed. The most notable were churches. Try and remember, these were the days before precision munitions.
More early years
When I first started Kindergarten, I was admonished to remember to let everybody know our last name was Jackson. Yes, we lived under an alias. My father was supposed to be an historian with the war department. I don't know what he really did. The little I could remember at that age were feelings more than events. My dad did not wear a uniform. He dressed in civilian clothes. He would sometimes disappear for days at a time doing Lord knows what. He would come home, pack a bag, take his concealed weapon from the storage place that I couldn't reach, but knew about, and be gone. My mother would be a nervous wreck when he was gone. I have no idea what he was up to. He was the least likely James Bond character you could ever imagine. I do know, to his dying day he would never say anything about his ventures. "That's classified!" Would be his response when asked about the good ole days. Even in the 1990's he was that way. When he passed, we found his current military ID. It stated he was retired but permanently active and the ID must be returned to the DOD.
Back to the world
When we came back home, we were stationed in Ft. Bragg. It was a typical military town. It was outside of Fayetteville. At the time, in the middle 1950's it was a much smaller ville than it is today. It was sometimes affectionately known as Fatalburg. It seems many army posts are located outside of small towns. They seemed like the same town, boomtown. They all had things in common. Outside the gate you could always find used car lots, bars, pawn shops, and seedy motels. This was a constant feature. It didn't matter if it was Ft. Bragg and Fayetteville or Ft. Meade and Odenton MD. When we lived stateside, we went to the local schools with the townies. These were the civilian kids who had no clue what the gypsy life of a military dependent was like. I'm sure they had a name for us too. Since I only knew them superficially, I don't know what that was. They had lifelong friends. We were only around for a year or so, then never to be heard from again. There was never time to build any kind of relationship with the townie kids. Most of these posts were rural. We listened to country music. Outside of the post were fields of crops or cattle. The other thing I finally figured out was I was not just an army brat, I was a country boy.
There's no place like home
It may sound like I never had a home base. Not so. There were times when my father would go ahead for a period, and we would stay behind. There were also times when we could not go to his duty station, like when he went to Korea in 1956 for 18 months. It was still a hostile location where dependents were not considered to be safe enough. We always made our chosen home base Tampa. In fact, my wife and I went to second grade together at Dale Mabry Elementary. To the best of our recollection, we never knew each other then. Back then, Tampa was a small town. I believe the total population of Hillsborough County was about 55 thousand. My wife and I met again after high school, and it was almost love at first sight. Who would ever have guessed I would marry a Townie.
Over seas again
When 1959 Came along, the farm boy from Kansas was still in the White House and we found ourselves in Frankfurt Germany. I did half of the 7th grade a Madison Jr High in South Tampa and the other half at the American School in Frankfurt Deutschland. The most notable event of the year is the Berlin Wall went up, the 3rd armored Division was in the field guarding the Fulda Gap from the Godless Commies and we didn't know if we would ever get back home. Still didn't know what my dad was doing. He was CO of the MI Detachment at Edwards Kassern. The only thing notable about that was his office appeared in the Elvis movie, G I Blues.
The truth about me
The thing which has astonished me the most is finding out I am a homebody. Many of the military brats I have met over my life have been cursed with the wanderlust and cannot settle down. We have been in this home for 25 years. Before that we lived in Carrollwood for ten years. That home was about three miles north of our current one. If I never left Hillsborough County for the rest of my life, I would feel blessed.